Frequently Assed Questions
What is Poop Office?
Poop Office is an independent comic book series about Poopert, who has the crappiest job ever! It is written, drawn, and lettered by Ben Pooped. Since 2006 it is self-published through Naked Grape Comics and has appeared at many comic book conventions across the country including WonderCon, Awesome Con, Baltimore Comic-Con, Small Press Expo, and HeroesCon.
Poop Office has wide appeal and is enjoyed by people of all ages with its unique mix of poop humor and slice-of-life office stories. It's all-age appropriate (there's no sex or violence), so parents can feel safe purchasing it for their kids. If you're a parent and would like reassurance about buying this for your child, please contact me using the form below and I can send you a longer sample.
---
Where can you get Poop Office?
Poop Office is published both in print and in digital form, and preview pages are further down the page. Both can be purchased from my online store or from retailers listed below.

Digital comics are high resolution and in full color and are available from the following retailers:
---
 Is there Poop Office merchandise?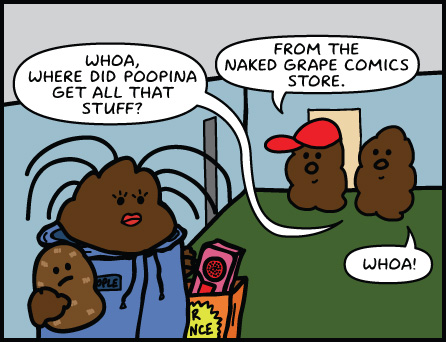 There's a ton of Poop Office merchandise including plush dolls, catnip toys, mugs, T-shirts, and more, all hand-made or designed by me, for sale at the Naked Grape Comics store. You can also find select items for sale from the following retailers: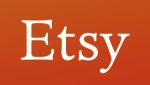 ---
How can you follow Poop Office through social media?
Click any of the icons below to visit the corresponding social media page. That's right, we have a Pinterest board.
---
Are you press or a podcast host interesting in doing a review or interview?
If you are interested in reviewing any of the Poop Office books, please send us a request using the contact form below.
I love doing interviews and have appeared as a guest as several podcasts in the past. I'd be down for doing it again, so if that's something you're interested in, send me a note using the contact form below.